Salt Lake City, Utah Commercial Auto Insurance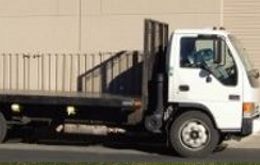 A Commercial Auto insurance policy will protect your business against bodily injury and property damages liability involved with the ownership, maintenance and usage of your commercial vehicles. Many types of vehicles can be covered under this policy including:
Trucks
Buses
Limousines
Delivery trucks or vans
Other motorized equipment
If your Utah business owns more than five vehicles, you may be considered a fleet of vehicles and could receive volume discounts or other special rate considerations. Having drivers with no violations or accidents will also reduce the costs of your commercial auto insurance premium.
Providing Commercial Auto Insurance in Salt Lake City, Utah
There are many different options and programs that can be added to your Utah commercial auto policy. This may include:
Bodily Injury Liability
Property Damage Liability
Non-Owned Auto
Collision and Comprehensive
Small Business Auto Insurance
Tow Truck or Commercial Heavy Truck
Seasonal Business Auto Insurance

So contact one of our experienced agents today at 801-261-5678 or fill out a quick online quote form for your commercial auto insurance needs.